<< back to Personal Training
Train with Shana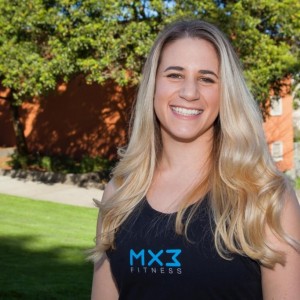 MX3 Fitness Health Coach and Senior Trainer, Shana Karp.
Shana is a two-time NCAA Diving All American from Stanford University and former diving coach. She understands that motivation and a solid plan are critical to meeting one`s fitness goals. Whether her clients are trying to lose weight, gain muscle, or increase their overall health, Shana`s high energy, positive approach keeps her clients engaged and moving forward. As a person with Type 1 Diabetes, she has profound insight into how having a chronic illness can affect exercise and fitness. Her training approach borrows techniques from Olympic lifting, yoga, traditional weight lifting, and flexibility training to create a challenging and varied workout.
Shana is a wellness consultant who motivates her clients to make positive health and lifestyle choices. She will help you gradually implement small changes at a pace that is comfortable to you so you can adopt a new, permanent, healthy lifestyle.

During your 4-month Wellness Program, Shana will
- meet with you once weekly in person or remotely;
- guide you in setting goals;
- develop your individualized workout program;
- give ongoing nutrition feedback;
- aid you in stress management;
- help you routinely assess and overcome barriers to accomplishing your goals.

$1600.00

Five one-on-one sessions with an MX3 certified personal trainer, Shana Karp.
$625.00

Save $10 per session when you purchase ten sessions.
$1150.00

Save $20 per session when you purchase twenty sessions.
$2100.00

Save $30 per session when you purchase thirty sessions.
$3000.00

Save $32 per session when you buy 50 sessions.
$4850.00

Lock in your pricing and secure your session times for the long run with a giant 100 pack.
$9500.00