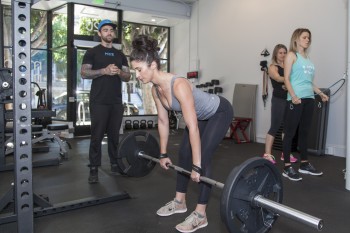 WE ARE HIRING!
Personal Trainer – part-time likely moving quickly to full-time

You'll work in a team environment to design and implement effective workout plans based on clients' goals and current physical condition. You'll create and record workouts on our online workout tracking platform, and you'll be responsible for measuring your clients' progress using standard circumference and fat measurements and our 3D body scanner. The position starts part-time but is expected to grow to full-time over several months. The studio receives between 3 and 5 inquiries per week, so there is a high potential to develop a new client roster quickly.
ABOUT MX3 FITNESS
MX3 Fitness is a boutique personal training company dedicated to providing measurable results to our clients through evidence-based training programs. We currently have eight trainers on staff, and we would like to add one trainer to the team at our Lower Haight location and another 3-4 trainers at our Castro location. Our trainers work within the MX3 Fitness training framework to help our clients achieve results that they simply cannot achieve on their own. Our emphasis in on functional training methods that take advantage of free weights, TRX, body-weight, and cable/resistance band exercises.
ABOUT THE GYMS
Each of our locations is very well-equipped and designed exclusively for personal training. We limit use of the gym to only personal training, so it is never crowded, and our trainers have easy access to the equipment they need for their clients' workouts. We provide a changing/locker room, towels, and bottled water for our clients, and the Lower Haight facility is equipped with a shower.
REQUIRED QUALIFICATIONS
You should be:
Certified as a Personal Trainer by a nationally recognized certifying body
CPR/AED certified
Friendly and professional
Dedicated to getting results for your clients
Willing to keep learning from your co-workers and through formal training
Available to work mornings, evenings, and for a few hours one weekend day
Constantly looking to improve your skills and increase your certification level
A self-promoter, interested in growing your client base and building your local reputation
PAY AND BENEFITS
$30 - 75 per session depending on training and experience
Commissions for new client acquisition
Additional commissions for trainers who bring their own clients/client roster
Paid training/internship (about 40 hours)
Paid renewal for personal training and CPR/AED certification
Continuing education stipend
Free use of studio (except mornings/evenings)
APPLY TODAY
If you are interested in joining our team, or if you just want to learn more about how we work, please email your resume to glenn@mx3fitness.com and include a brief summary of your qualifications and experience.