<< back to Personal Training at Our Castro Location
Train with Glenn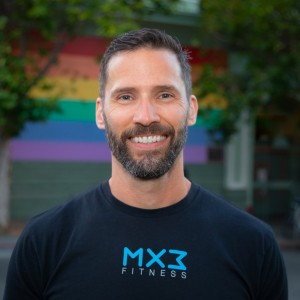 MX3 Fitness Founder and Senior Trainer, Glenn Shope
As a former collegiate skier and assistant athletic trainer, he saw from early on the need to develop data-driven fitness programs, where the planning, tracking, and evaluation were just as important as the actual exercises. His experience as a successful web developer, matched with his passion for fitness, allowed him to create a comprehensive, trackable system where Mind Meets Muscle.
Glenn is not taking new clients.
One-on-one personal training with the founder of MX3 Fitness. Glenn trains primarily out of the Castro location.
5 Pack - $700
($140.00 each)
10 Pack - $1,300
($130.00 each)
20 Pack - $2,400
($120.00 each)
30 Pack - $3,300
($110.00 each)
50 Pack - $5,250
($105.00 each)
100 Pack - $10,200
($102.00 each)
Our Twelve-week Intensive program is designed to help you get measurable, lasting results while developing fitness habits that can last a lifetime. You'll work with a Lead Trainer, an Assistant Trainer, our Yoga Director, our Mobility Specialist, and our Nutritionist to develop a personalized plan to fit your current fitness goals. We'll work with you one-on-one and in small groups five times a week for twelve weeks to get you there.
Typical program includes:
Personal training 3-4 days per week
Personalized nutrition planning
Nutrition coaching once a week
Yoga workshop or private yoga instruction
Yoga or bootcamp 2 days per week
Mobility workshop and ongoing private or group mobility training
Weekly measurements to assess progress