<< back to Personal Training at Our Lower Haight Location
Train with Govinda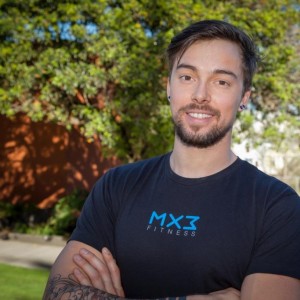 MX3 Fitness Mobility Specialist and Senior Trainer, Govinda Schäfer.
Govinda is a certified Functional Range Conditioning (FRC) and Kinstretch mobility specialist, focusing on form and balance. He concentrates on increasing joint function; extending his client's active and usable ranges of motion; and developing whole body strength awareness. When weight training, Govinda uses kettlebells, acrobatic techniques, classic strength exercises, as well as body weight movements, to give his clients a unique and challenging experience.
Govinda is not taking new clients.
Mobility 1-on-1 Intro Session
Get started with a 75-minute private Mobility Intro Session. In this session, Govinda will deep dive into the anatomy of your primary joints, their function and their vulnerability areas that can leave you with daily aches and pains. Once you have a solid understanding of your mobility potential and possible issues, Govinda will create a personalized program for you to work on at home to help you reach your mobility goals. Govinda will provide online videos and photos for you to use for your homework and joint-specific stretches. It's recommended that you have a follow up session at least once per month with Govinda to check on your progress and adapt the plan to maximize results.
Mobility Follow-Up Sessions
Following your Mobility 1-on-1 Intro Session, students should schedule Mobility Follow-Up Sessions to check on progress and adjust their programs as needed. This is a great chance to review what you learned in the Intro Session and expand your knowledge, increasing the effectiveness of your mobility practice. In this 75-minute private session, you and Govinda will run through your entire program, step by step, correcting movements and adding exercises and stretches along the way. In the end you will leave with an enhanced program for you to continue to practice on your own.
1 Pack - $170
($170.00 each)
3 Pack - $450
($150.00 each)
5 Pack - $725
($145.00 each)
10 Pack - $1,430
($143.00 each)
5 Pack - $600
($120.00 each)
10 Pack - $1,100
($110.00 each)
20 Pack - $2,000
($100.00 each)
30 Pack - $2,850
($95.00 each)
50 Pack - $4,600
($92.00 each)