<< back to Personal Training at Our Lower Haight Location
Train with Shana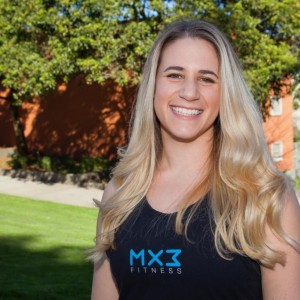 MX3 Fitness Health Coach and Senior Trainer, Shana Karp.
Shana is a two-time NCAA Diving All American from Stanford University and former diving coach. She understands that motivation and a solid plan are critical to meeting one`s fitness goals. Whether her clients are trying to lose weight, gain muscle, or increase their overall health, Shana`s high energy, positive approach keeps her clients engaged and moving forward. As a person with Type 1 Diabetes, she has profound insight into how having a chronic illness can affect exercise and fitness. Her training approach borrows techniques from Olympic lifting, yoga, traditional weight lifting, and flexibility training to create a challenging and varied workout.
Shana is not taking new clients.
Personal Training with Shana
One-on-one sessions with an MX3 certified personal trainer, Shana Karp.
5 Pack - $675
($135.00 each)
10 Pack - $1,275
($127.50 each)
20 Pack - $2,400
($120.00 each)
30 Pack - $3,450
($115.00 each)
50 Pack - $5,650
($113.00 each)