Are you considering yoga but not sure where to start?
There are many studios around the city and so many styles and ways of connecting with a yoga practice. We stand apart from other yoga studios by limiting our classes to 16 clients to give you a more personalized experience. By making yoga practical, accessible, personally challenging and rooted with the classic teachings, we have a lot to offer in The Yoga Loft at MX3 Fitness!
The ancient teachings are amazingly comprehensive, timeless and all-inclusive; everyone is meant to benefit.
The heart of yoga aims to bring healing to the body and calm to the mind. When the mind can rest, we see clearly and can be our best. Come to The Yoga Loft for classes, private sessions and workshops and experience the amazing benefits for yourself!
Teachers
Workshops
MX3 Fitness offers yoga workshops on a regular basis. Check our workshop schedule to sign up.
Meet Marc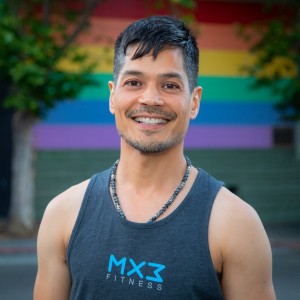 Marc Morozumi is the MX3 Fitness Yoga Director for the Castro's own unique MX3 Fitness Small Group Yoga Loft. Former owner and operator of M Spa Yoga - Castro, and owner of YogaMukunda, he recently shifted and expanded his practice by teaming with MX3 Fitness. Marc brings together his 18 years of yoga practice and training to share yoga's practical and life-affirming methodology and science. Tapping into his experience as a massage therapist and former professional dancer, Marc aims to inspire well-being and healthy alignment in his personal 1:1 sessions or hatha flow group classes, which provide an active practice with meditative focus.
Interested in private yoga with Marc? Click here.
Learn more about Marc by visiting yogamukunda.com